STRATEGIC PLANNING FOR 2021 (Part 3): Fundraising for Your First Quarter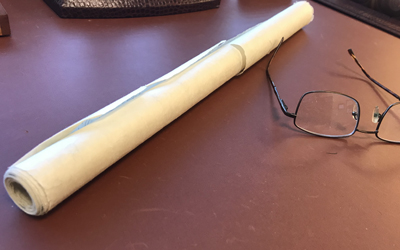 Over the last six months of 2020, many of our Thompson & Associates discussions in our "
Conversations with Industry Icons
" podcast series have revolved around one primary topic: the strategies and objectives for 2021. In response, I'm revisiting the underlying philosophy of nonprofit fund development. For some organizations, these principles are so deeply embedded in their organizational cultures that the practical applications simply occur "organically." In others, the essentials are not so clearly defined or consistently followed. Either way, the absence or weakness of any one of these aspects will significantly impact organizational funding.
This third installment on strategic planning for 2021 is a practical plan for getting out front and remaining on the leading edge of a momentum wave through a process of strategic donor cultivation.
FUNDRAISING FOR YOUR FIRST QUARTER
What you as a nonprofit executive do in December and January each year is a "tell"—that is, it reveals a lot about your institution's fund-development mentality. Are you a year-end closer or a springtime cultivator? Many nonprofits put a heavy emphasis on end-of-year appeals. Some are even critically dependent on that one-shot process to maintain essential services. Harvesting year-end contributions that you have neither planted nor cultivated may not be the most productive way to raise major gifts. Yes, many donors do make a lot of contributions at the end of the year. However, the year-end approach leaves a significant amount of money on the table each year. Eventually, the missed opportunities could be worth millions to the organization.
On the other hand, there are development professionals who understand that the most strategic and effective donor appeals are for the next year and begin in January, not December. They talk face-to-face with their donors about their annual gifts at the time when those same donors are talking to themselves about their resolutions for the coming year. My wife, Sheryl, and I begin thinking in December about what we will do with regard to our giving in the following year. We have allotted a certain amount of money for charity but are still trying to decide which organization(s) will benefit from our total giving resolutions.
Development professionals understand that the most strategic and effective donor appeals are for the next year and begin in January, not December.
Most major donors and investors, typically your A-list givers, don't like making big decisions in a short amount of time. The research demonstrates rather conclusively that the larger the giving or spending decision, the less effective are traditional closing tactics. Closing on a $25 contribution takes a 10-minute phone call. The appeal usually begins with a $100 request and progressively retreats to a series of fallback proposals until the donor makes a commitment (see Closing on Major Gifts). Conversely, a cultivation strategy operates under a basic assumption: the longer you give a major donor to think and plan for a gift, the greater that gift tends to be—that is, if you start the planting and cultivating process at the proper time of the year.
For major gifts of assets from one's estate, the timing could be at a particular event or stage of life. For next year's annual gift, the planting season for A-list donors is from January to March.
PRACTICAL CULTIVATION STRATEGY
I followed a similar cultivation strategy for all my career—since my first job as a fundraiser when I scribbled my annual development plan on a 12-foot piece of butcher paper. It looked like a simplified Critical Path Method (CPM) planning chart with target dates, strategic objectives, and a lot of action items. In the first quarter of the year, I called on the top 25% of our institutional donors. I set an appointment with my number one donor as early as I could in January; next, I met with my second-best donor, and so on. By the end of March, I had visited all the top 25% of my major donors.
A cultivation strategy operates under a basic assumption: the longer you give a major donor to think and plan for a gift, the greater that gift tends to be.
THE FIRST OBJECTIVE in those first-quarter meetings with my A-list donors was to thank them for what they had done. I hand-delivered a tax-deductible receipt along with a statement of a donor's lifetime giving. It was my way of emphasizing the long-term impact of a donor's investment. Some will push back on that concept, thinking the cumulative amount on a lifetime-giving statement could make donors question their level of giving. However, I believe that the more donors are invested in your organization, the more involved they will become and the greater stake they have in its success. Whether a cumulative giving report has a positive or negative impact on donor enthusiasm depends on the story of the ongoing impact of the nonprofit and how effectively that story is being communicated to your donors.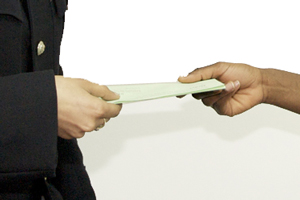 "I want to give this to you," I say, holding out the receipt and lifetime-giving statement. When, however, they try to take it, I don't let go. After a moment of tugging, donors will instinctively look up at me. This is my opportunity to look them straight in the eye and say, "I want to thank you for doing this. It means a lot to us and the people we serve."
Besides fundraising for your organization, I know that many of you are also generous givers. But how many times have you had an organizational representative hand-deliver your tax receipt, look you in the eye, and say, "Thank you!"? It's a pretty rare practice and one that will immediately set you and your organization apart. I follow that same procedure a dozen times with the same donor, and it continues to have the same impact. A sincere "Thank You" never gets old.
Many nonprofits no longer send printed or electronic tax-deductible receipts to donors, regardless of their giving levels. Instead, annual contributions are available by going to the website and entering a passcode. Perhaps, some administrative assistant or computer programmer at the respective organization is congratulating himself/herself on saving a dollar per donor. However, some donors simply grit their teeth over the fact that the burden is upon them to hunt down the passwords and retrieve their giving totals for every organization they support.
MY SECOND OBJECTIVE in those first-quarter meetings was to provide an investor report on what we've done in the preceding year, explain what we would try to do in the coming year, and ask them to make a pledge that they would fulfill by the end of December (see EFFECTIVE DONOR COMMUNICATIONS: How Warren Buffet Makes Less Become More).
I devoted the second quarter to the B-list donors (the next best 25%) and the third quarter to the third 25%. I spent October through December planning for the next year and making phone calls to follow up on pledges. Of course, I had been cultivating the seeds I planted all year long. If I sensed any hesitation in the phone conversation, I would schedule a face-to-face visit. Otherwise, I sent a note the next day summarizing our conversation and confirming the pledge.
By planting seeds in my most productive field early in the year, I could predict with remarkable precision what the organization could expect to receive. Since 20% of the donors typically gave 80% of the money, by meeting with the top 25% of my donors in the first quarter, I knew by the end of March what 90% of our annual income would be.
I no longer have to use large rolls of butcher paper to organize my year, though that original roll of paper is still in my office. The key activities, reminders, and communication tasks of this gift cultivation strategy have been converted to an amazingly effective piece of software called Gift Clarity.
LEFTOVER MENTALITY
Most of my efforts these days are dedicated to charitable estate planning. Unfortunately, many organizational leaders think of the planned-giving and the annual-giving processes as separate and distinct endeavors with a different strategy applied to each. In fact, planned giving and annual giving functions are often located in different departments, different offices, and sometimes even in different cities. However, there are two very important common denominators of an overall gift-cultivation strategy that apply to every type of major gift.
Since 20% of the donors typically gave 80% of the money, by meeting with the top 25% of my donors in the first quarter, I knew by the end of March what 90% of our annual income would be.
Common Denominator #1: Whether I'm soliciting a current gift for the annual fund or a planned gift from a donor's net worth, I employ the same strategy of long-term cultivation. Fundraisers plant the seed with an appeal early in the "planting season." Then, they water the ground, pull weeds, and fertilize the soil in which the gift proposal is growing. With a consistent cultivation strategy, both estate gifts and annual gifts are equally dependent on a gift planning process.
Common Denominator #2: Both reject the strategy of appealing to donors for the leftovers. Organizations that rely so heavily on year-end giving without a concerted effort of planting the seeds of giving resolutions early on are like the poor, going out into the fields, gleaning for leftovers after the crop has been harvested. That is to say, they are waiting till the end of the year, hoping that their donors have something left over from all their spending out of discretionary income.
Discretionary spending is usually not the issue with major donors; it's discretionary giving. By the end of the year, many major donors have already decided how much and to whom they will give in the following year. Strategic givers, like strategic investors, think three steps ahead. A successful development program is all about getting ahead of the game versus playing from behind. You'll still get end-of-year gifts. It is, however, a lot more effective and a lot less stressful when you are simply reaping what you have planted in January rather than begging for the leftovers in December.
Getting ahead of the game requires playing catch-up for several quarters—and depending on the organization, even several years. I typically worked with about 100 major donors at a time, segmented into the four groups (Lists A-D). It took some time to plant and cultivate those annual giving resolutions. However, in a relatively short period, donors began to expect five things from me:
1) They all (especially the A-level donors) expected an annual visit from me;
2) an organizational update;
3) a hand-delivered receipt and/or giving statement;
4) a pledge-request for the current year; and,
5) a periodic follow-up email or call.
Some nonprofits try to have over 25-donor communication touches annually (see Over-Reliance on Electronic Communications). However, the number of donor communications is not nearly as significant as the quality of those calls or visits (see Defining a Successful Donor Visit). Over time, the five essential donor "touches" were expected by my major donors and preprogrammed into my schedule.
The plan I followed each year had the effect of simplifying and demystifying the fundraising process. I never wondered about my goals, priorities, or my appointment calendar. Like the farmers in the small town in which I grew up, I had a plan for planting, watering, and harvesting donations, and I just worked the plan.
Eddie Thompson, Ed.D., FCEP
Founder and CEO
Thompson & Associates
Copyright 2020, R. Edward Thompson
"If we merely aim for the industry standard, then our goal is mediocrity. Emulating the average nonprofit, we are destined to live with all the problems the average nonprofit faces. So, we suggest you aim to be exceptional in your approach to fund development."
—Eddie Thompson