STRATEGIC PLANNING FOR 2021 (Part 2): Defining a Successful Donor Visit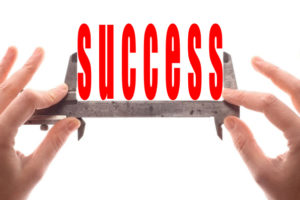 My conversations with nonprofit leaders over the last few months have focused on where to go from here and the strategic planning process for 2021. With that in mind, I've decided to revisit the essential elements of a long-term fund-development strategy. As I wrote in Part 1, it's all about the commitment to practices that keep your organization on the front side of the momentum curve. Among my recommendations for 2021 is to increase (socially-distanced) in-person donor visits but also to review the procedures for evaluating those visits. Defining success for all types of donor visits and establishing an evaluation process can be as important as the visit itself.
EVALUATING DONOR VISITS
Nonprofit leaders are very good at tracking each donor's giving history and each fundraiser's contribution to the budget. However, evaluations are so focused on past performance that they're usually not as good at identifying future giving signals in the ongoing conversations with individual donors. There are some skill sets nonprofit leaders would do well to learn from sales managers:1) the commitment to consistently evaluate sales calls,2) the ability to distinguish between successful and unsuccessful presentations, and 3) the experience to pick up on OR notice buying signals.
One of the primary responsibilities of the senior development executive is to evaluate donor conversations and determine if they were successful. Leaving it to the fundraisers to evaluate their own donor visits is notoriously imprecise. With human nature in full play, organizational reps tend to define success in terms of the particular visit under consideration. It's not uncommon to hear glowing reports and high expectations from solicitation visits in which the fundraiser and donor "really hit it off." However, a close evaluation of the conversation reveals there were no actual giving signals from the donor. In other conversations, there were no giving signals because the conversation did not lead to any.
*     *     *
I had a conversation with a vice-president of advancement who supervised a large team of fundraisers. As we talked through some of the problems he was trying to solve, I finally asked him, "How much time do you spend each week evaluating your staff and their donor conversations?"
One of the primary responsibilities of the senior development executive is to evaluate donor conversations and determine if they were successful.
His answer: "Well, we have seasoned fundraisers on our staff."
My reply: "What difference does that make? Isn't it your job to evaluate their performances."
"Oh yes," he said. "We do performance reviews every year."
As the conversation continued, it became clear that an annual performance review was not what I had in mind. I continued with a more precise question: "Are you debriefing fundraisers on their visits and evaluating donor conversations based on a preset definition of a successful visit—identifying giving signals, setting priorities for future time allocations, etc.?" My recommendation was that as the senior development executive, he needed to be spending about 20% of his time leading, training, and evaluating his staff of "seasoned fundraisers" rather than leaving them to lead and evaluate themselves.
My friend listened attentively, but he seemed more than a little reluctant. Devoting 20% of his time would mean losing almost an entire day per week. Thinking that my advice had fallen on deaf ears, I was surprised to receive his email message several weeks later. "You're right," He wrote. "I'm going to take fewer donors, and I'm going to devote 20% of my time to working with my staff individually and as a group."
I've followed his progress. By investing that time with his staff, he's leveraging his impact on the entire fund development process. It seems to have made a real difference in his staff morale, and it seems like they are all getting on the same page of the playbook. A lot of the problems we discussed were beginning to work themselves out. They're raising more money as well.
There are several kinds of donor visits—introductory visits (information gathering), stewardship visits (reporting what donor gifts have accomplished), solicitation visits (giving proposals), etc. Without clearly defined criteria of what constitutes success in each type of visit, how will you ever know if you're making progress or just wasting time? Consequently, defining a standard for successful and unsuccessful conversations is the first step in empowering senior leadership to meaningfully evaluate donor visits and conversations.
DEFINING A SUCCESSFUL DONOR VISIT
Below are two examples of major gift officers being evaluated by the Vice President of Development. The first is a new employee just learning the Vice President's process of Precision Q & A (an aspect of the critical-thinking approach to leadership). The second is a major gift officer with a clear definition of what constitutes a successful solicitation. He's a top performer who has gone through this evaluation process countless times.
VICE PRESIDENT: What were your objectives for this visit?
Without clearly defined criteria of what constitutes success in each type of visit, how will you ever know if you're making progress or just wasting time?
NEW FUNDRAISER: To make a good impression on the donor and tell him about the organization.
VICE PRESIDENT: How would you define a "good impression?"
NEW FUNDRAISER: It's establishing a connection and explaining the great work of our organization.
VICE PRESIDENT: Any other objectives?
NEW FUNDRAISER: I was basically gathering information about what he did and his company.
VICE PRESIDENT: Was there some kind of response or action you were proposing?
NEW FUNDRAISER: As I said, I was just relationship building.
VICE PRESIDENT: In your opinion, was it a successful visit?
NEW FUNDRAISER: Oh, it was a great visit.
VICE PRESIDENT: How so?
NEW FUNDRAISER: The donor said he was very impressed with our organization and that I had made a compelling case for the needs we are addressing.
VICE PRESIDENT: So, what will happen next with this donor?
NEW FUNDRAISER: We're putting him on our mailing list, and I'll give him a call in a couple of months to set up another visit.
VICE PRESIDENT: Did he ask to be put on that list?
NEW FUNDRAISER: Not exactly, but we do that with all new referrals.
VICE PRESIDENT: Looking back at your meeting, the donor didn't agree to an action that moved the donation forward.
NEW FUNDRAISER: No, but I was able to tell him a lot about the organization, and I'm sure the visit contributed to building a good relationship. That's why I think it was successful.
Here's a similar Q & A with the organization's top fundraiser:
VICE PRESIDENT: What were your objectives for this visit?
TOP FUNDRAISER: I wanted to get some movement on a specific appeal because another organization he supports is going to launch a capital campaign next year.
VICE PRESIDENT: What kind of movement?
TOP FUNDRAISER: If we're going to take the time to schedule and meet with this donor, we have to make some kind of proposal he can respond to—something that would move the ball down the field.
VICE PRESIDENT: So what kind of response would (as you say) "move the ball down the field?"
TOP FUNDRAISER: With this donor, I proposed a site visit and, as a fallback, I intended to propose a donation of items or services from his company to our charity auction.
VICE PRESIDENT: Did you consider it a successful donor visit?
TOP FUNDRAISER: Well, yes and no. We were unable to schedule a visit, but I did get a donation commitment for the silent auction.
VICE PRESIDENT: Did he follow through on the donation?
TOP FUNDRAISER: Yes, he did. Actually, his contribution to the auction was more than I had expected.
VICE PRESIDENT: So that moves the ball down the field?
TOP FUNDRAISER: Yes, it does. But I'm continuing to work on getting him in for a site visit as a continuation.
EVALUATION SUMMARY
Several fundraising principles appear in these fictional follow-up evaluations. First of all, the top fundraiser and the Vice President had a common understanding of what constituted a successful visit. This particular conversation was with a new referral who had expressed interest in the organization.
Secondly, both organizational executives understood that positive movement was the objective. Continuations without positive movement are NOT considered successful visits. It doesn't mean you won't continue to follow up with them or keep them on your mailing list, but without positive movement or some kind of future giving signal, the contact becomes a lower priority. There was no mention in the new employee's evaluation that he ever suggested or was looking for any kind of positive movement.
Thirdly, face-to-face donor or personal zoom conversations are important because that is the best (and perhaps only) way to evaluate giving or volunteer signals according to predetermined definitions of success.
*     *     *
These suggestions are a bit more tactical but no less an essential best-practice. The more successful visits and conversations you have with donors, the more money you will raise for your organization. As I noted at the beginning, nonprofits are very good at tracking and analyzing past performance data, particularly donor performance. However, donor performance is a metric you can influence but not control. The only thing you can control is the performance metrics of your development staff. Without clear definitions of success in every donor visit and communication, it's difficult (if not impossible) to know if you're effective or ineffective; if you're winning or losing. At the end of the day, it's what you measure and monitor that tends to improve.
Eddie Thompson, Ed.D., FCEP
Founder and CEO
Thompson & Associates
"If we merely aim for the industry standard, then our goal is mediocrity. Emulating the average nonprofit, we are destined to live with all the problems the average nonprofit faces. So, we suggest you aim to be exceptional in your approach to fund development." —Eddie Thompson