SI SEYMOUR'S LEGACY (Part One): Principles of Fundraising and Donor Relationships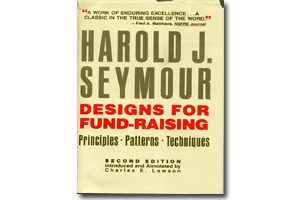 Almost all worthwhile advice about fundraising can be traced back to one ground-breaking publication: Harold (Si) Seymour's
Designs for Fundraising: Principles, Patterns, and Techniques. 
First published in 1966, this book continues to be regarded as the essential dogma of philanthropic fundraising. Up to that point, fund development campaigns were typically characterized as single-handed, uncoordinated efforts by a few dedicated affluent individuals (or "patrons"). Revisiting this seminal work can strengthen our ability to implement the fundamentals of fundraising.
Perhaps Seymour's most significant impact was the demystification of the entire fund development process. What is considered today standard procedure among seasoned fundraising professionals was far less obvious prior to 1966.
Seymour began Designs for Fundraising saying that understanding people and their motivations to give was the most important aspect of the fundraising process. He wrote in the Introduction:
"My story begins and ends with people. Every cause, I hope to show, needs people more than money. For when those people are 'with you' 1 and are giving your cause attention, interest, confidence, advocacy, and service, financial support should take care of itself.… Whereas without them, you might as well go and get lost."
"Every cause needs people more than money…" That may sound like a fairy tale to most hard-core fund development executives. It's no surprise then that readers are tempted to skip over the touchy-feely chapters on underlying MOTIVATIONS and fast forward to the chapters about the MECHANICS of a highly effective fundraising process. Of course, we need to understand both—why people give and how the process works most effectively; both donor motivations and fund development mechanics. One without the other rarely lives up to expectations. Si Seymour's conclusion: "So, you'd better know as much about people as you can. Keep it ever in mind, and it will always light your way." It has, in fact, lit my way. Since first reading Designs for Fundraising in 1980, I have certainly found this advice to remain true. The primary MOTIVATION to give or volunteer is different for every person, so I've made it my habit to listen very carefully, watch body language, and come to every donor meeting with my list of conversation starters.2
PRINCIPLES OF DONOR RELATIONSHIPS
Seymour's book relays a myriad of valuable insights, so I've broken them down into what I consider to be his top ten methods and strategies to understand people and their motivations to give.
This post, part one of two, focuses on the first five.
SEYMOUR #1. "People want to be considered worthwhile members of a worthwhile group… If your appeals miss these two universal aspirations, you'll miss many targets and have a much harder time (fundraising)."
I have one client institution with which donors so strongly want to associate themselves that present and future estate gifts flow in as consistently as waves on a beach . A surprising number of these charitable estate plans are from people who have never visited the institution, have never been personally contacted by a fundraiser, or have little to no history of generous giving. "There can hardly be any stronger motivation for supporting a group or cause," says Seymour, "than simple pride of association."
SEYMOUR #2. "One of the most important things for persuaders to remember about people is never play down to them but always approach them with due respect for their idealism."
In 1606, Miguel de Cervantes Saavedra published The Ingenious Gentleman Don Quixote of La Mancha, which follows the adventures of a nobleman (Don Quixote) in his quest to revive chivalry and bring justice to the oppressed. Even when people made fun of Don Quixote's idealistic worldview, he remained focused on his mission to defend all who were in need.3
The most effective fundraisers I've known are those who have been able to maintain a kind of romanticized ideal about their occupation. Nonprofit leaders should begin with a clearly defined vision of what donor relations would look like in the ideal expression of their organization. Visionary leadership is not just promoting ideas; it's instilling, managing, and maintaining ideals.4
SEYMOUR #3. "By all means keep the posture of willingness to tell all but leave a little room for dreams. All other things being equal, people can always fashion in their own hearts a far better rationale for their support than any of us could ever devise from any long parade of facts and figures."
Being straightforward is very different from simply telling the truth—more like "the whole truth and nothing but." Being intentionally forthcoming prevents a donor from walking away with a false impression about you or your organization. Sometimes fundraisers feel it's their job to always be promoting, only telling the good stuff. However, in real-world sectors, both for-profit and nonprofit, everything is not always positive. Donor-investors understand that; they want and deserve fundraisers who are honest and straightforward about the impact of their partnerships.
Many years ago, a gentleman generously funded an initiative for a nonprofit I represented. However, what was seemingly a very doable initiative turned into a colossal failure. The night before my day of reckoning with our generous donor, I couldn't sleep. I hated disappointing a man I so admired and kept telling my wife how badly I felt about wasting his money. Having grown weary of my stewing, Sheryl finally said, "Look, Eddie, just tell the truth as honestly and straightforwardly as you can. That's all you can do." Whenever Sheryl begins with a deliberate, "Look, Eddie," I know that it's time to pay attention. So, I gave him the news as honestly and straightforwardly as I could.
Our donor was disappointed that our plan hadn't worked out, but as a successful businessman, he had heard his share of good and bad news. With the same graciousness that he had initially made the donation, he thanked me for my candor. I think our relationship actually deepened through that failed initiative. When it comes to accountability, great fundraisers don't equivocate or dance around the truth. Experienced donors will sense that pretty quickly. At the same time, they recognize integrity when they see it.5
SEYMOUR #4. "The soul of a people looks back with pride and affection (to the organizational story)."
Institutional histories are often read like a textbook, full of dates and leadership transitions, and are anything but inspirational. But all stories worth telling have several common elements. There is the protagonist (the hero), the tension (a past or imminent danger or tragedy), and the redemption (the hero saves the day). The more effectively you identify and develop these elements, the more compelling your story. So, in the organizational story that you tell your donors, what is the tension or tragedy, who are the heroes, and where is the redemption?
The right story to the right donor can make the difference between a multimillion-dollar gift, a token gift, or no gift at all.
No matter how masterful you are with facts and figures about your organization's effectiveness, to move people to make institution-changing contributions, you have to become a masterful storyteller. The right story to the right donor can make the difference between a multimillion-dollar gift, a token gift, or no gift at all.6
SEYMOUR #5. "Giving is primarily reactive. People seldom give serious sums without being directly asked to do so."
Recently, I was talking with a member of our extended family who works as an Emergency Medical Technician (EMT). As we were discussing what people should do in an emergency situation, he offered this piece of advice. "Eddie, if you ever find yourself in a situation where emergency help is needed, do not ask for SOMEONE to call 911." Instead, his advice was: " Get a person's attention, look them straight in the eye, point to them, and tell them to call 911." Then immediately ask, "Will YOU do that?" When it comes to ensuring action, people need to be directly and definitively asked so that they don't wait for someone else to make change, or in this example, get help.
Special events do have a place in the overall fund-development mix, but they don't take the place of direct appeals in the context of one-to-one conversations with donors. Likewise, brochures, websites, and social media presence can inform and even contain funding appeals. But they don't sell. It's not the same as looking a major donor in the eye and asking him or her to make a significant donation.7
To thrive, nonprofit organizations need people more than money. Build stronger relationships with your donors, and their financial support will follow. Part Two of this blog will contain Principle 6-10 of Donor Relationships that I learned from Si Seymour's Designs for Fundraising.
Eddie Thompson, Ed. D., FCEP
Founder and CEO
Thompson & Associates—Eddie Thompson
"If we merely aim for the industry standard, then our goal is mediocrity. Emulating the average nonprofit, we are destined to live with all the problems the average nonprofit faces. So, we suggest you aim to be exceptional in your approach to fund development."
—Eddie Thompson
copyright 2023, R. Edward Thompson