VOLUNTEER RECRUITMENT AND RETENTION:  Leveraging the Impact of Every Donation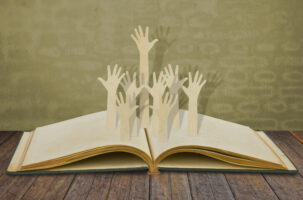 Natalie Walker serves as East Coast Director of Communications for Apartment Life, a nonprofit located in all 50 states, Canada, and the United Kingdom. Before joining the Apartment Life team as a coordinator, Natalie worked at two other nonprofits, each with very different approaches to volunteer involvement. The valuable lessons she's learned in each position are important for all nonprofits.
At a nonprofit community health clinic in Atlanta, GA, Natalie was the unofficial volunteer coordinator tasked with organizing a multitude of volunteers and keeping them all busy with important duties that were central to the organizational mission. Natalie's contribution was giving volunteers important purpose and direction. She found that volunteerism without necessary and organized work can kill volunteer momentum almost instantly. If volunteers were not busy, engaged, and contributing, Natalie quickly found tasks for them. She says of the health clinic: "Volunteer recruitment and retention were baked into our model of service. It created a lot of extra work because our objective (beyond simply getting important things done) was to connect them to our organization by providing a meaningful philanthropic experience."
She adds: "We would periodically cycle back to the questions: Do we really need these volunteers? Shouldn't we be hiring people to perform these services? It was, however, through the volunteers that we (almost automatically) built and maintained relationships in the community. If we wanted to have community relationships, we had to have volunteers who were advocates for us—the mouthpieces for spreading the word. Consequently, we wanted to create as many volunteer roles as we could accommodate."
Volunteers at the clinic were creating community partnerships, and those partnerships led to both big and small gifts… and to more volunteers. The loyalty Natalie experienced at the clinic is supported by the U.S. Bureau of Labor Statistics: 72% of volunteers are involved with only one organization, while only 18.3% are involved with two. Volunteer recruitment and retention were high priorities creating their most passionate fans and contributors.
When Natalie and her husband relocated, she accepted another position at an adoption agency, which followed a very different nonprofit strategy. Their large staff of mainly full-salaried professionals took care of the agency's essential work. That was beneficial in some ways, but there was a significant difference. That organization did not have a deliberate volunteer recruitment and retention system. Consequently, they were weak on partnerships, recognition, and grassroot support from the local community.
LESSONS WORTH LEARNING
There are numerous lessons all nonprofits should take away from Natalie's story:
1. SAVE MONEY AND IMPROVE COMMUNITY RELATIONS
The key to community relations at a community health center was word-of-mouth from volunteers who felt good about themselves and the work they were doing for the organization. Think about it this way: your nonprofit can spend a truckload of marketing dollars promoting its mission and importance to the community. However, people in general (and donors in particular) have become more skeptical and very adept at filtering marketing messages. Volunteerism is a win-win-win scenario—saving marketing dollars, recruiting more helpers, and building community relations.
Takeaway—Nonprofits can spend far less on creating highly intentional volunteer recruitment, thereby inspiring a host of raving fans.
2. SIZE DOESN'T MATTER
Meaningful volunteer opportunities often diminish as the complexity of the organization increases. While tutoring students at an inner-city after-school program is a hands-on need, hospitals are not looking for volunteers to come in and try their hand at brain surgery. However, if the objective is to provide volunteers with meaningful philanthropic experiences, then hospitals are among the very best places to get involved.
Volunteer recruitment and retention were baked into our model of service… our objective was to connect them to our organization by providing a meaningful philanthropic experience.
St. Jude's Children's Research Hospital has over a thousand regular volunteers serving annually in over 20 roles, managed by a team of full-time coordinators. In the early days of St. Jude's, this setup had a dramatic impact on the hospital's grassroots profile. As a result, St. Jude's reputation among community members is so established that most of their charitable estate planning gifts come from people who have never even been to the hospital.
Takeaway: It doesn't matter the size or complexity of your nonprofit, big or small, simple or complex—partnerships and community relations are the result of volunteers interacting with your organization.
3. GENEROUS GIVING IS LEVERAGED BY VOLUNTEERISM
One of our Thompson & Associates team members has supported Mercy Ships, a division of Youth with a Mission, for over 30 years. Mercy Ships operates two hospital ships, providing life-changing medical services to some of the poorest nations in the world, particularly in the sub-Saharan coast of Africa. Fundraising for Mercy Ships is a radical departure from most nonprofits. Every member of the combined 1,000+ crew, including medical personnel, and community health workers—down to the engine room and up to the captain and CEO are self-supporting through churches, family members, and mission organizations.
Undoubtedly, Mercy Ships is intentional and sophisticated about activating the efforts of volunteers. Most of the medical supplies and equipment are donated by pharmaceutical companies and corporate giving. Their development staff is also quite successful in creating matching gifts for what would otherwise be a very expensive medical mission.
The strategy of using a multitude of volunteers to leverage the impact of donor investments is the same employed by the Red Cross, Doctors Without Borders, Samaritan's Purse, Habitat for Humanity, and many others.
TAKEAWAY: For thoughtful and intensely strategic donors, volunteer involvement is an important part of the organizational case for generous giving, because the broad base of volunteer involvement maximizes the impact of every gift from major and annual givers.
4. THE SECRET DATABASE
Volunteer coordinators and fund-development teams are often not on the same page concerning the overall organizational strategies. Because fundraisers focus on money rather than the volunteer stories, there is often a disconnect and lack of communication between these two departments. There is, however, a much more persistent problem at many large nonprofits. Volunteer coordinators and their staff are often reluctant to share names, stories, or contact information with the development department, as if to protect volunteers (who are already donating time) from fundraising solicitations.
From my perspective as one who provides foundation-sponsored estate-planning services without charge or obligation to organizational donors, there are likely millions of dollars of charitable estate planning opportunities for organizations from the databases of their faithful volunteers. 
TAKEAWAY: Consistent volunteers are the individuals who most believe in the mission of your organization. Excluding them from the opportunity to add giving to their serving does them no favor. 
These four considerations can drastically alleviate the burdens of labor and funding that nonprofits face. Just as Natalie Walker experienced in her vast tenure in nonprofit leadership, people are eager to get involved with causes about which they are passionate, and such involvement builds loyalty that transfers over to the community and financial giving.
Eddie Thompson, Ed.D., FCEP
Founder and CEO
Thompson & Associates
"If we merely aim for the industry standard, then our goal is mediocrity. Emulating the average nonprofit, we are destined to live with all the problems the average nonprofit faces. So, we suggest you aim to be exceptional in your approach to fund development."
—Eddie Thompson
copyright 2022, R. Edward Thompson