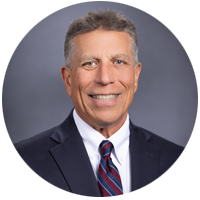 JOE GIACCHINO
VICE PRESIDENT OF PROCESS OPTIMIZATION
JOE GIACCHINO
VICE PRESIDENT OF PROCESS OPTIMIZATION
Joined Thompson & Associates
2022
Located In
Bourbonnais, Illinois
Education
Olivet Nazarene University, B.S., Physical Education
Experience
Riverside Healthcare Foundation, Estate Pre-planning & Education,  2022
Riverside Healthcare Foundation, Advancement Officer, 2015-2021
Presence Health, Director of Development, South Region, 2006-2015
YMCA Kankakee Area, Executive Director, 2000-2006
Joe brings more than 34 years of experience successfully advancing nonprofit missions, services and philanthropy.
Joe worked at Riverside Healthcare Foundation outside Chicago as an advancement officer for seven years. In that role, he led and coordinated the Thompson & Associates program. Under Joe's care, Riverside utilized two days of our planning services and maintained a full schedule (with a waiting list!) even throughout the pandemic, amidst furloughs and quarantines. His efforts led to new donors and broadening community support. "Joe is a well-respected member of the community and an accomplished development professional. He shares Riverside's passion for serving the community and for the positive impact philanthropy provides the donor and the recipient," said Matthew McBurnie, Vice President of
Institutional Advancement for Riverside Healthcare.
As Joe looked to retire from Riverside, the opportunity to share his passion and innate skills for making the Thompson process a resounding success with other Thompson clients seemed like the perfect fit. Today, Joe enjoys connecting with nonprofit professionals from around the country to give them his own perspective as someone who's been in their shoes, sharing techniques and role-play scenarios to enhance and rejuvenate their passion for how the Thompson process can impact their supporters and mission.
Throughout his career, Joe has achieved development milestones, cultivated valued partnerships and paved the way
for new programs and services for organizations including Presence Health and the YMCA in Kankakee, Chicago and
Denver.