Storytelling:
The Secret Sauce of Fundraising
A podcast with Lynn Ierardi on her book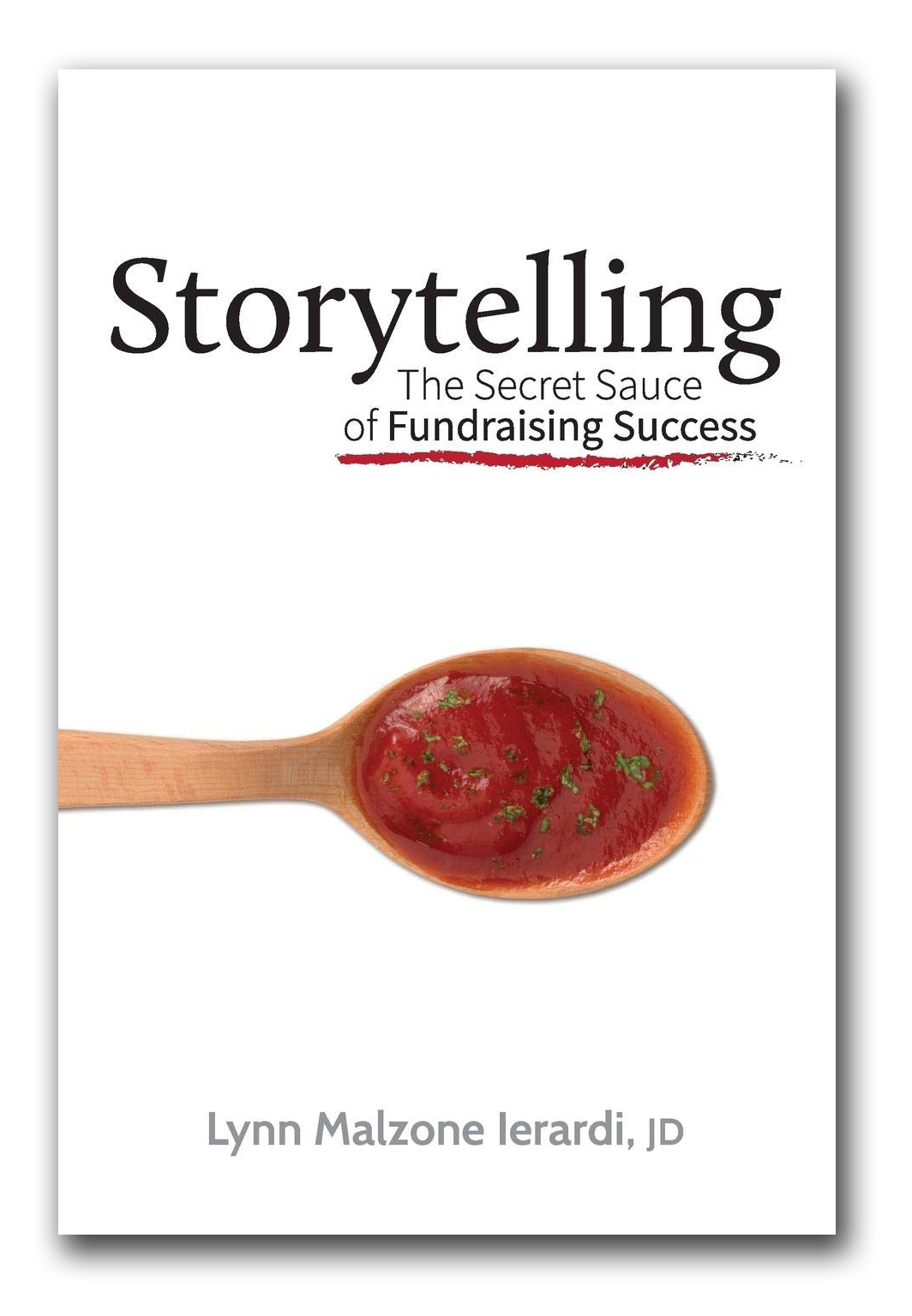 As you prepare to take some time away from the office (or your home office desk!) for the holidays, we have the perfect fireside reading recommendation for you.  In the short 5-minute podcast above, Eddie discusses with Lynn Ierardi, J.D., author of Storytelling: The Secret Sauce of Fundraising Success, what inspired her to write this quick, but impactful, read
Nonprofits have amazing stories to share — stories of perseverance, fortitude, and generosity.  Stories give nonprofits a way to stand out in a world that gets noisier every day, where people are looking for ways to find meaning and connection.
Great stories engage donors and raise more money. Scientific evidence confirms good storytelling is one of the most powerful ways to engage stakeholders and influence behavior. Stories raise awareness, change behavior, and trigger generosity.
But what makes a great story? What ingredients engage the audience and have an impact? What flavors will spark the appetite and make the mouth water? There are some ingredients that are essential. You just can't make good marinara without tomatoes.
Note that while our Founder and CEO, Eddie Thompson, provided a written testimonial for the book's back cover, we are not affiliated with the book in any way.  Nor do we receive anything in return for going through the provided purchase links. We just whole-heartedly believe in this resource!
About Lynn Malzone Ierardi, J.D.  Lynn has been in the estate and gift planning field for nearly 30 years. She has served as Director of Gift Planning for the University of Pennsylvania (Penn) since 2005 and as an independent gift planning consultant since 2002. Prior to joining Penn, she held gift planning positions in health and higher education, served as Vice President with the Merrill Lynch Center for Philanthropy and practiced estate planning and real estate law.
Lynn is past Chair of the national board of the National Association of Charitable Gift Planners (CGP), a member of the CGP Leadership Institute and a regular faculty member for the Planned Giving Course. She has been a member of CGP since 1993. She is a past board member and past President of the New Jersey Council of Charitable Gift Planners and a current board member of the Planned Giving Council of Greater Philadelphia (PGCGP).
Lynn's published book, Storytelling: The Secret Sauce of Fundraising Success, was named to Book Authority's 100 Best Fundraising Book of All Time. As a dynamic and highly rated speaker, Lynn has presented at conferences, meetings, and webinars throughout the country on a variety of charitable planning topics – including storytelling. Lynn is a graduate of Lycoming College and Fordham University School of Law, and is a Proud Penn Parent – times two!
Transcript Conversation with Lynn Ierardi on Her Book
Eddie Thompson:  Thank you for joining us for this podcast today.  We have a special guest, and I wanted to take a moment with her and review a new book that she has out. 
One of the things I have learned over the years – I have studied characteristics of successful organizations and characteristics of successful fundraisers – and, one of the things I've been saying now for 35 years is that great fundraisers are excellent listeners.  But, they're also great storytellers.  I've never seen a book that really did a great job talking about storytelling.  And then I read Lynn's book, Storytelling: The Secret Sauce of Fundraising Success.  
So, we have Lynn Ierardi with us today.  Lynn, thank you for joining us for this brief conversation about the book you have written. 
Lynn Ierardi:  Thanks for having me, Eddie! 
Eddie:  When I read this book, I'll be honest with you, I read it in one sitting.  It is an easy book to read.  But, it is packed!  It is packed with great lessons to learn when it comes to storytelling. 
Lynn, let's back up a second and talk about why you wrote this book and what was the genesis of the project? 
Lynn:  Well, Eddie, I knew in my gut that storytelling was important for a long time, and I've always used storytelling in my work.  But, the genesis for this book was losing my brother in 2017 to cancer.  I realized when I offered remarks at his memorial service, I could talk about how kind he was, how generous he was, how funny he was, but if I shared stories about him, that's what really resonates.  And, that's the legacy that we leave behind – is the stories about us.  All of a sudden, I wouldn't call it a light bulb moment, it was a light bulb year because that was a painful process, but I realized that it's all connected – stories in our life, stories in the work that we do. 
Eddie:  That is so true!  For those of you who know Lynn, she's a great chef as I would describe her.  I love, Lynn, how you tied in preparing a meal and fundraising.  That is just the perfect analogy!  Where did you come up with that idea? 
Lynn:  Well, I'm Italian, so a lot of things revolve around food.  I really wanted make the book relatable.  I wanted it to be what I call an airplane book that you could read in one sitting, and that would be entertaining, but also educational.  The revolving around a meal seemed to make the most sense to accomplish those objectives.
Eddie:  It is an amazing book.  It's not a long book.  Honestly, I read it on the plane.  I was going out to the West Coast.  I thought when I first got it, it would take me the whole flight, and it didn't.  But, I did have a chance to go back while still on that flight, and review some important concepts. 
I really want to encourage everyone to get this book.  
Lynn, how do they order this book? 
Lynn:  They can order it through Amazon and Barnes & Noble.  Or, they can go to my website, which is giftplanningadvisor.com, and contact me directly.  I've sold it, as well, in bulk to organizations who want to buy it for their board members or their staff.  Sometimes they've done that because I'm going to work with them to do storytelling training.  I've worked with a couple of organizations from small organizations that are local to Philadelphia to national organizations that want to step-up their storytelling skills. 
Eddie:  My theory is if you want to be a great fundraiser you have to have a systematic approach, have high accountability, and be able to relate to people.  One of the best ways to do that is by telling a story. 
I would encourage folks to do two things:  1) Get this book: Storytelling: The Secret Sauce of Fundraising Success; and, 2) I would make sure that every single staff person who's out calling on donors has been trained in storytelling.  It is an art, somewhat a science, but we all need to improve our storytelling, and Lynn would be a great person to help you do that. 
So, Lynn, thank you for writing the book and thank you for joining us today on this podcast to describe this amazing book. 
Lynn:  Thanks for your support, Eddie! 
Eddie: All right, everybody, thank you for joining us for our podcast today.  We encourage you to purchase the book Storytelling: The Secret Sauce of Fundraising.  Lynn is a great author, as well as a great chef!  We look forward to you tuning in with us again in the future.