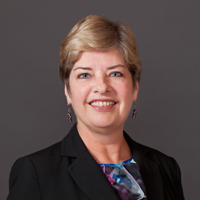 PAMELA JONES DAVIDSON, J.D., FCEP
EMERITUS 
PAMELA JONES DAVIDSON, J.D., FCEP
EMERITUS
Joined Thompson & Associates
2009
Located In
Bloomington, Indiana
Education
Indiana University School of Law, J.D., manga cum laude, 1979
Indiana University, B.A., 1975
Memberships & Associations
National Association of Charitable Gift Planners (NACGP): Education Chair, 1995; Secretary, 1996; Board Member, 1997; President-Elect, 1998; President, 1999; Nominating Committee Chair, 2000; Ethics Committee, 2000
NACGP Leadership Institute
NACGP Hall of Fame, 2018 Inductee
Fellow in Charitable Estate Planning (FCEP), Charitable Estate Planning Institute
Charitable Gift Planners Indiana, Past President and Board Member
Association of Fundraising Professionals (AFP), Indiana Chapter, Past Treasurer and Board Member
Network of Career Women, Past President
Leadership Bloomington, Alumna
WFHB Community Radio, Board Member
Middle Way House, Donor Development Committee
Community Advisory Boards of both her local public radio & television stations
APTS (America's Public Television Stations) Leadership Council, Member
Experience
Planned Giving Design, Editorial Board
National Planned Giving Institute at The College of William and Mary, Faculty
Davidson Gift Design, President, 1999-Present
Laura Hansen Dean and Associates, Charitable Gift Planner and Consultant, 1996-1999
Indiana University Foundation, Executive Director of Planned Giving and Associate Counsel, 1985-1996
Private law practice, business, corporate, and probate law
Internal Revenue Service, Examiner in the Estate and Gift Tax Division
Over Pamela's thirty+ year career, she has made countless presentations throughout Indiana and nationally to development professionals, planned giving councils, estate and tax attorneys, accountants and financial planners, and to prospects and donors about gift planning and charitable giving techniques.  She is known for her motivational and empowering message stated in practical and pragmatic terms, about gift planning advantages and options that can benefit individuals, families and valued charities, and the essential ingredient of "how to do what you want to do."  
After graduating in the top 10% of her law school class in 1979, Pamela was an examiner in the Estate and Gift Tax Division of the Internal Revenue Service, and later practiced business, corporate and probate law with an Indianapolis law firm before joining the nonprofit sector in 1985. 
She began her nonprofit career at the Indiana University Foundation, spending 11 years there.  She helped increase their planned gift expectancies fourfold in only a few years as Director.  She next spent three years consulting as a charitable gift planner before starting her own firm in 1999, specializing in gift planning, planned giving program design and implementation, and training.  
At Thompson & Associates, Pamela utilizes her three decades of experience to help indviduals clarify their goals and objectives to provide for their families and impact their communities.  Her passion is helping people discover what is most important to them and cherishes the relationships that spring from getting to know individuals and couples.  She finds great joy in offering them the gift of empowerment, a voice and a legacy. 
Pamela and her husband Jef are proud to call Bloomington, Indiana home where she serves on several nonprofit boards and as a volunteer.  She is very active in her community and sits on the board of its nationally-recognized women's shelter and public broadcasting community advisory boards.  Pamela and Jef enjoy time with their three children, and attending live theatre and classical music: for Pamela, opera is a forever love too.