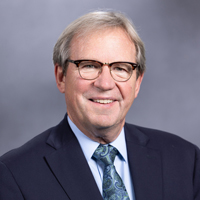 MICHAEL GEIS, CFRE, FCEP, FAHP
EXECUTIVE VICE PRESIDENT
MICHAEL GEIS, CFRE, FCEP, FAHP
EXECUTIVE VICE PRESIDENT
Joined Thompson & Associates
2008
Located In
Omaha, Nebraska
Partners Located In
Missouri
Education
University of Nebraska-Kearney, M.S., Educational Psychology, 1980
University of Nebraska-Kearney, B.A., Special Education, 1975
Charitable Estate Planning Institute, Fellow in Charitable Estate Planning (FCEP) designation
Memberships & Associations
National Association of Charitable Gift Planners
Charitable Gift Planners of Nebraska
Omaha Estate Planning Council
Fellow in Association for Healthcare Philanthropy
Experience
The Geis Group, President & Founder, 2008-Present
Nebraska Medical Center, Executive Director, Office of Development and Chief Development Officer, 2004-2008
Omaha Children's Hospital Foundation, President, 1999-2004
Madonna Rehabilitation Hospital Foundation, CEO, 1996-1999
Bethphage Mission/Mosaic, Started in housekeeping/direct care and progressed to COO, ultimately, President of Bethphage Foundation, 1973-1996
Michael Geis has labored more than 50 years in services devoted to nonprofit management and fund development.  He has distinguished himself as a specialist in "relationship" oriented fundraising and an expert in structuring "blended" gifts involving current and future gift components.  His leadership and engagement in various fundraising initiatives has resulted in nearly $500 million for various nonprofits.
Michael has served a national clientele of nonprofit organizations in a wide array of "capacity building" endeavors including development audits, feasibility studies, non-traditional funding strategies and capital campaign management. 
Michael is the recipient of the J. Robert Sandberg Award in recognition of his noble and distinctive services to the planned giving profession.  He has achieved the distinction of Fellow from the Association for Healthcare Philanthropy, a professional certification entrusted to less than 100 professionals worldwide, which recognizes individual professional distinction earned through dedication and continual self-advancement.
He is a lifetime resident of Nebraska and currently resides with his wife Ginny in Omaha.  Together, they have three adult children and seven grandchildren. Michael enjoys photography, fly-fishing, carpentry and antique restoration.