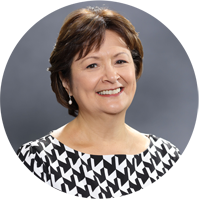 LORRAINE DEL PRADO, CSPG, CFRE, FCEP
SENIOR VICE PRESIDENT
LORRAINE DEL PRADO, CSPG, CFRE, FCEP
SENIOR VICE PRESIDENT
Joined Thompson & Associates
2016
Located In
Mercer Island, Washington
Partners Located In
Washington
Education
Boston University, M.A., English Literature
University of the Philippines, B.A., Humanities
American Institute of Philanthropic Studies, Certified Specialist in Planned Giving (CSPG)
Memberships & Associations
National Association of Charitable Gift Planners
Association for Healthcare Philanthropy
Leave 10
Seattle Estate Planning Council
Seattle Philanthropic Advisors Network
Washington Planned Giving Council
Washington Women's Foundation
Fellow in Charitable Estate Planning (FCEP), Charitable Estate Planning Institute
Experience
del Prado Philanthropy Training and Consulting, Principal, 2013-Present
Seattle Children's Hospital Foundation, Vice President, 2014-2015; Senior Director of Legacy Planning, 2004-2014
Children's Hospital & Research Center Foundation in Oakland, President, 2002-2004; Vice President, 1999-2001
UC Berkeley College of Natural Resources, Associate Director of Development, 1997-1999
University of Philippines, Instructor of Humanities, 1984-1987
Lorraine del Prado has been in charitable planning and fund development for more than 27 years. She has consulted with organizations nationally and has led operations that raised hundreds of millions of dollars in outright and legacy gifts for various nonprofits.
Lorraine loves guiding and facilitating the estate planning journey of individuals, helping them clarify the highest purposes of their assets for themselves, their family and the causes they care about and create a strategic distribution plan that is reflective of their values and intended legacy.
Being raised in the Philippines has been a defining influence in her life.  Having witnessed a lot of poverty when she was growing up and acknowledging the unearned privilege of being born in the middle class, she has made it a personal mission to give back through her work and personal life and to always live life with gratitude.  Reflecting the culture's high regard for elders, Lorraine loves interacting with seniors, listening to their life stories and honoring their contributions to society.
Lorraine lives with her husband Tom and their dog Teddy in Mercer Island, Washington.  In her free time, she enjoys watching movies, the opera and symphony performances with her husband; hiking the scenic trails of the Pacific Northwest; visiting her family in the Philippines; and taking Argentine tango lessons.