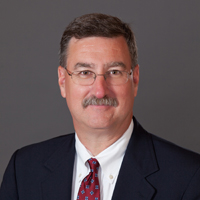 JOHN WEBBER, III, J.D., FCEP
SENIOR VICE PRESIDENT
JOHN WEBBER, III, J.D., FCEP
SENIOR VICE PRESIDENT
Joined Thompson & Associates
2007
Located In
Ottumwa, Iowa
Education
Drake University Law School, J.D., 1982
University of California, Los Angeles, B.A., History, 1979
Memberships & Associations
Association for Healthcare Philanthropy
Fellow in Charitable Estate Planning (FCEP), Charitable Estate Planning Institute
Iowa Bar Association
Missouri Bar Association
Experience
Harrison, Moreland & Webber P.C., Partner, 1985-Present
Prior to joining Thompson & Associates in 2007, John had the opportunity to participate in the company's unique process in varying capacities: as legal counsel to a participating nonprofit organization, as a supporter to that organization, and as an attorney drafting documents at the conclusion of the process. 
John enjoys working with people who want to make a difference.  He knows the process is a win-win situation for all concerned, and he is passionate about helping individuals by first getting to know them. 
His many years as an attorney have proven to be a vital asset to his role with the company.  He is able to use his experience to demonstrate ways to impact others more than they ever thought possible.  He also appreciates the opportunity to work with some of the most experienced planners in the country.  John feels there is no better way to give back for all the blessings he has received in life. 
John and his wife, Diane, have been married over 30 years and have two children with three grandchildren.  They are active in a number of community organizations and serve on several nonprofit volunteer boards. An avid sports fan, John is passionate about his alma mater, UCLA, and the San Francisco Giants and the San Francisco 49ers.