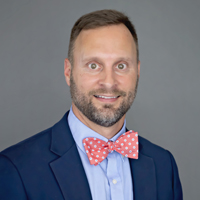 JEREMY PHARR, J.D., FCEP
EXECUTIVE VICE PRESIDENT
Joined Thompson & Associates
2002
Located In
Brentwood, Tennessee
Partners Located In
Maine
Maryland
Tennessee
Education
Vanderbilt University Law School, J.D., 2002

Harding University, B.S., Political Science, magna cum laude 1998
Memberships & Associations
Association for Healthcare Philanthropy
Fellow in Charitable Estate Planning (FCEP), Charitable Estate Planning Institute
Charitable Estate Planning Institute, President
Charitable Estate Planning Institute, Faculty
Tennessee Bar Association
Experience
Jeremy Pharr, Attorney at Law, 2002-Present 
Pharr & Thompson, President, 2011-Present
Lipscomb University, Adjunct Professor, MBA Program, Fundraising for Nonprofit Organizations, 2007-2013
JEREMY PHARR, J.D., FCEP
EXECUTIVE VICE PRESIDENT
Jeremy learned about Thompson & Associates while in law school, and quickly decided that the company's unique service provided him with the best opportunity to use his degree in a manner that matched his personal values.  He joined the company immediately after sitting for the bar exam. 
Each year, Jeremy plans and assists with hundreds of estates across the country.  In addition, he has served on nonprofit boards and committees, assisting them with endowment building and planned giving.   
Jeremy and a group of Thompson & Associates colleagues formed the Charitable Estate Planning Institute in 2012, a 501(c)(3) public charity offering top level education on charitable estate planning for development staff, gift planning officers and professional advisors. Jeremy serves as the President, sits on the board and is a member of the annual faculty. He is also a Fellow in Charitable Estate Planning (FCEP) awarded by the Institute. 
At Thompson & Associates, Jeremy excels in relating complex legal and tax issues in a way that is clear to individuals so they can make informed decisions about their estate and legacy planning goals.  With an enthusiasm for philanthropy, he believes the best part of his job is helping individuals achieve their dreams making a difference in others' lives, now and beyond their time on Earth. 
Jeremy has a passion for sports, which he's passed onto his four children.  He spends most of his time outside of work traveling from ballfield to ballfield, while enjoying the occasional trip to the beach.  They are also active in their church and local community.