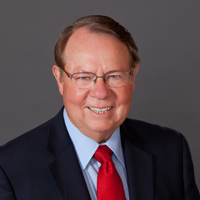 GARY HARGROVES, FCEP
IN MEMORIAM
Joined Thompson & Associates
2011
Located In
Fridley, Minnesota
Education
School of Theology, Claremont, CA, Rel.D., Counseling, 1967

Morningside College, B.A., Philosophy, Religion, 1962
Memberships & Associations
National Association of Charitable Gift Planners
Minnesota Planned Giving Council, Member, Past President, Past Annual Conference Chair, Past Board Member
Association for Healthcare Philanthropy
Fellow in Charitable Estate Planning (FCEP), Charitable Estate Planning Institute

Minnesota Council of Churches, Chair, Board Development Committee, 2013
Experience
Hargroves & Associates, President, 2007-2016

Hargroves Dunlop Associates, President, 2006-2011

Courage Center, Director of Gift Planning, 2009-2011
University of Minnesota Medical Foundation, Director of Gift Planning, 1986-2007
GARY HARGROVES, FCEP
IN MEMORIAM
With great sadness, we said goodbye to our friend on July 4, 2016, when he passed away on his beloved hobby farm. He is greatly missed by all of us at Thompson & Associates. Gary was highly esteemed within our firm and was a very special friend to so many of us. We will miss his kind heart, wonderful smile and gentle voice. He was respected by some of the best professionals in our industry and we enjoyed his counsel. His Independence Day departure set him free of pain and now he enjoys the freedom for all that Heaven holds for him. Gary Hargroves will be missed, but not forgotten by his family at Thompson & Associates!
Gary joined Thompson & Associates in 2011 to provide charitable estate planning services in Minnesota and neighboring states. 
From 1986 to 2007, Gary was the Director of Gift Planning for the University of Minnesota Medical Foundation. During those years, the gift planning staff grew from one to seven, raised in excess of $20M per year and assisted hundreds of couples and individuals discover their legacies and implement their charitable and estate planning goals. From 1976 – 86 he worked in fund development for Minnesota United Methodist Church and prior to that worked for private liberal arts colleges in admissions.
He was a frequent presenter, especially at the Minnesota Planned Giving Council fall conferences, of which he was an active member of. He served as Council's President in 1998, Annual Conference Chair in 1997, and additional board and committee assignments. In 2009 he was the first person to be awarded The Clinton A. Schroeder Distinguished Service Award. Gary earned his Fellow in Charitable Estate Planning (FCEP) designation from the Charitable Estate Planning Institute. 
Gary was a native of Iowa active in his church and served on the Board of Directors for the Minnesota Council of Churches Foundation and on other boards. He lived in Minnesota and was a proud father to his two children, Karin and John. When not working in charitable estate planning, involved with family or volunteer activities, Gary enjoyed his hobby farm located in the Loess Hills of west central Iowa.