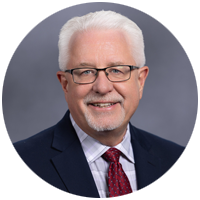 Joined Thompson & Associates
2006
Located In
Omaha, Nebraska
Partners Located In
Iowa
Nebraska
North Dakota
Minnesota
South Dakota
Education
Luther Seminary, M.Div., 1984
Augustana University, B.A., 1977
University of Wyoming, Political Science, freshman year, 1974
Bellevue University, MBA Program Coursework
Sioux Falls Seminary, D.Min Program Coursework
Certified Fundraising Executive (CFRE)
Charitable Estate Planning Institute, Fellow in Charitable Estate Planning (FCEP) designation
Memberships & Associations
National Association of Charitable Gift Planners
Charitable Gift Planners of Nebraska
Association for Healthcare Philanthropy
Colorado Planned Giving Roundtable
South Dakota Planned Giving Council
Association of Fundraising Professionals, Nebraska Chapter, Past President
Augustana University Alumni Association, Past President
Experience
CHI Alegent Health, Chief Development Officer and Director of Capital Appeals and Planned Giving, 2003-2006
Planned Giving Partners, Owner, 2002-2003
Augustana University, Vice President for Advancement, 2000-2002
Methodist Health System, Vice President of Planned Giving, 1997-2000
Mosaic Foundation, Vice President of Development, 1993-1997
Doug became the first associate to reside north of Nashville when he joined in 2006. 
After growing up on an Iowa farm, he earned his Master of Divinity degree and served as a pastor in both rural and urban congregations from 1984 to 1990.
Doug began his career in resource development in 1990 and has worked with organizations in a range of fields including the arts, social services, higher education and healthcare.
Throughout his career, Doug has held a strong interest in values-based, individual-centered planning and maintained a commitment to make the individual or couple the focus of every conversation and giving plan. At Thompson & Associates, Doug has found common cause with a team devoted to the same pledge.
Doug follows his passion for helping people to discover what is most important to them and leads individuals through a process that encourages them to discover, analyze and put in motion their ultimate legacy goals. He cherishes the relationships that spring from getting to know them and finds great satisfaction in offering them the gift of empowerment, a voice, and a legacy. Doug credits his background in ministry with honing his listening skills and the ability to encourage others. He is able to call upon his expertise as a teacher and facilitator to help individuals create plans that fit them in a personal way.
Since joining Thompson & Associates he has assisted in planning hundreds of estates, which have benefitted families and directed over half a billion dollars to nonprofit organizations. He has been a mentor to many and speaker on philanthropy and planned giving at local, regional and international conferences.
As President of the Nebraska Chapter of the Association of Fundraising Professionals in 2004, Doug led the chapter to its first-ever recognition as a Ten Star Award Chapter at the international level.
Doug has two adult children and three amazing grandchildren and spends time with them regularly. He is a long-time fan of the Nebraska Cornhuskers and the Minnesota Twins, and is a Green Bay Packers shareholder. He enjoys hiking, biking, and exploring – especially in the American West.