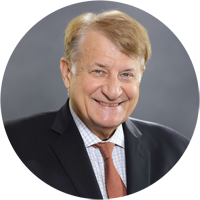 CHARLES SLAMAR, J.D., LL.M., FCEP
SENIOR VICE PRESIDENT
CHARLES SLAMAR, J.D., LL.M., FCEP
SENIOR VICE PRESIDENT
Joined Thompson & Associates
2011
Located In
Chicago, Illinois
Education
The John Marshall Law School, LL.M. in Taxation, 1983
Loyola University Chicago Law School, J.D., 1973
University of Illinois at Urbana-Champaign, B.A., Political Science, 1970
Memberships & Associations
National Association of Charitable Gift Planners, Member, Speaker, Past Board Member
Chicago Council on Planned Giving, Founding Member, 2-time Past President
Chicago Estate Planning Council
Association for Healthcare Philanthropy (AHP)
AHP's Madison Institute, Faculty Member
Fellow in Charitable Estate Planning (FCEP), Charitable Estate Planning Institute
American Bar Association
Chicago Bar Association
Salvation Army Planned Giving Advisory Committee
University of Illinois, Department of Political Science, Board of Visitors
R&R Newkirk, Planned Giving Seminar, Past Faculty Member
Experience
Charles Slamar & Associates, Attorney at Law, 2009-Present
Bank of America, Philanthropic Services, Regional Director, 1990-2009
Lurie Children's Hospital of Chicago, Planned Giving Director, 1981-1990
Charlie brings a wealth of knowledge and experience to those he works with on a daily basis.  He is driven by his passion for his faith, his family, and his friends – a passion that has inspired his more than three decades of professional service.
At Thompson & Associates, he enjoys helping individuals and families plan to pass their estate assets pursuant to their objectives with the company's signature values-based approach.  Charlie is an avid sports fan.  Therefore, it is not unusual for Charlie to relate complex tax and estate planning concepts using easy-to-understand sports analogies and metaphors.
With the collaboration of fellow Thompson & Associates' colleagues, Charlie was instrumental in the formation of the nonprofit educational entity, the Charitable Estate Planning Institute.  The Institute was formed as a means for estate planning professionals from across the country to gather annually to discuss advanced topics specifically geared towards estate planning.  Charlie also served as the Dean during its formative years.
As a founding member of the Chicago Council on Planned Giving and a two-time past president for the association, Charlie was honored to receive its Russell V. Kohr Memorial Award for excellence in planned giving.
In addition to his other philanthropic activities, Charlie is a past officer and Director of The Chicago High School for the Arts, the city's only public school offering college-preparatory and pre-professional arts training, and was instrumental in its founding.
As an attorney, Charlie also has his own private practice advising individuals on tax and estate planning; charitable organizations on governance, gift planning, and litigation; and corporate fiduciaries on tax exemption.
Charlie and his wife, Gail, live outside of Chicago, Illinois.  They have been married over 40 years, have an adult daughter, and are active in their church.  In his free time, Charlie enjoys reading, running, watching movies, and the Chicago White Sox.