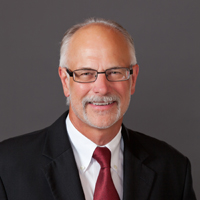 CHAD LEITCH, J.D., CFRE, FCEP
SENIOR VICE PRESIDENT
CHAD LEITCH, J.D., CFRE, FCEP
SENIOR VICE PRESIDENT
Joined Thompson & Associates
2007
Located In
Cathedral City, California
Partners Located In
Virginia
Wisconsin
Education
University of Iowa, J.D., 1979
Iowa State University, B.S., Urban Planning, 1973
Memberships & Associations
Association for Healthcare Philanthropy
Fellow in Charitable Estate Planning (FCEP), Charitable Estate Planning Institute
Order of the Coif
Experience
O'Connor & Thomas, P.C., Attorney at Law, 1980-Present
Chad joined Thompson & Associates after personally going through the process with his wife.  He experienced firsthand the insight that the team offered on estate planning issues.  Upon given the opportunity to work with the company, Chad notes that it allowed him to "get into the best job in the world while making a difference for people." 
Chad strives to build community both personally and professionally.  He believes, and loves helping others to discover, that no one is self-made.  No matter how independent, everyone relies on and grows as a result of those around them. He learned to foster a sense of giving back through his parents, who delivered bags of groceries to neighbors who were in need on Christmas Eve.  Chad personally saw the impact of these seemingly small acts of kindness through witnessing the hundreds who visited his parents' funerals years later. 
Chad is a logical thinker and a good listener. These traits, along with his patience and good humor, bring a special quality to his role as a partner working alongside individuals and couples.  He especially enjoys that his work with Thompson & Associates enables him to travel and meet inspiring people. 
Chad was born in New Hampton, Iowa and now resides in Cathedral City, California with his wife of over 45 years.  Together, they have two children.