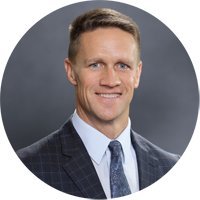 CAYCE POWELL, J.D., MBA, FCEP
PRESIDENT
CAYCE POWELL, J.D., MBA, FCEP
PRESIDENT
Joined Thompson & Associates
1999
Located In
Brentwood, Tennessee
Education
Texas Tech University, J.D., 1998
Texas Tech University, MBA, 1998
Abilene Christian University, B.B.A., Business Administration, 1995
Memberships & Associations
Association for Healthcare Philanthropy
Fellow in Charitable Estate Planning (FCEP), Charitable Estate Planning Institute
Experience
Burdett Morgan Williamson & Boykin, LLP, Associate Attorney, 1998-1999
Cayce  joined  Thompson  &  Associates  in  1999  (then  TrustMark Charitable  Strategies)  and  now serves as  President  working  from  the  national headquarters in Nashville. Cayce provides leadership and direction to each division of Thompson & Associates.
Studying biology during his first two years of college ignited Cayce's interest in numbers and his appreciation for business. Cayce then earned his Master of Business Administration and his Doctor of Jurisprudence from Texas Tech University. His coursework focused on taxation and business entities.  As a young attorney, he learned the importance of listening to the client and paying attention to details.
In 1999, Cayce and his family moved to Tennessee, where he partnered with Eddie Thompson. In addition to working with his own nonprofit clients, he soon became the lead estate planner, working with organizations, individuals, and attorneys across the country. When the company was restructured in 2004, Cayce assumed a greater leadership role as president.
Currently, Cayce is highly involved in every aspect of Thompson & Associates. He has led the integration of technology into the planning process, including cloud-based workflow for increased efficiency and communication.
Cayce lives in Brentwood, Tennessee with his wife and four children. In his spare time, Cayce enjoys playing tennis and exercising.