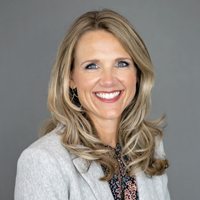 BETHANY ROZELL, FCEP
EXECUTIVE VICE PRESIDENT, STRATEGIC PARTNERSHIPS
EXECUTIVE VICE PRESIDENT, STRATEGIC PARTNERSHIPS
Joined Thompson & Associates
2006
Located In
Brentwood, Tennessee
Education
University of Delaware, B.A., Sociology, 2002
Memberships & Associations
Association for Healthcare Philanthropy
Association for Healthcare Philanthropy, Affiliate Committee Member
Bethany's upbeat personality and spark for life can only be coupled by her heart for serving people and spreading sunshine wherever she goes.  She is a natural in relationship building and conversation.  Bethany was immediately the catalyst behind our ability to reach new markets and increase our visibility on a national scale when she joined in 2006. Her passion for healthcare, coupled with her business experience, created a perfect fit for growing relationships with nonprofit organizations.
Prior to joining Thompson & Associates, Bethany had a seasoned career in sales which included achieving Directorship in Mary Kay Cosmetics at the age of 19, developing a motel, and owning an embroidery business by the age of 23.  Through her role as Director of Investor Relations at the Siouxland Chamber of Commerce, Bethany enjoyed the opportunity to serve, promote and support small business owners.
Bethany was raised in Aberdeen, South Dakota and brings her strong Midwestern values and work ethic to Thompson & Associates. She has adapted, "All y'all" as her favorite Southern slang and now calls Nashville home.
The loves of her life are her husband, Jason, son, Grant, and daughter, Lauren.  She embraces her "Mom" title – spending quality time with her family and friends is her top priority.
All things outdoors energizes and renews Bethany.  Running, swimming, cycling, spending time at the lake, and traveling are most enjoyed.  She loves being active and has competed in several half marathons and triathlons.  She is also very involved in her church and youth programs.
Bethany's hard work, driven dedication to excellence, and passion for fostering relationships has continued to make her an invaluable resource to Thompson & Associates, our business partners, and our clients. We are proud to have Bethany as our Executive VP of Strategic Partnerships. She is a valuable member of the Thompson & Associates team.