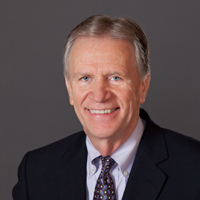 BEN POWELL, M.S.F.E., FCEP
EMERITUS
Joined Thompson & Associates
2005
Located In
Franklin, Tennessee
Education
West Texas A&M University, MSFE, 1997

Abilene Christian University, B.S., Chemistry, 1968
Memberships & Associations
Fellow in Charitable Estate Planning (FCEP), Charitable Estate Planning Institute
BEN POWELL, M.S.F.E., FCEP
EMERITUS
Ben has served individuals and churches with financing and investing services for over thirty years. He has led seminars nationwide for church clergy to train them in personal leadership development programs. 
Ben has served in many areas related to personal finance and church development. He successfully founded a company that provides church financing services across the nation, becoming one of the premier companies in the country. 
Ben and his wife, Gail, have lived in Franklin, Tennessee since 1998. They are heavily involved in church and service organizations as administrators or board members. They each regularly consult with nonprofit organizations from their personal experience in administration and donor support. 
He has two married sons, one married daughter and nine grandchildren. His entire family is active in church and community activities.