Fundraisers today face an increasing number of obstacles to overcome in their everyday work, such as budget cuts, leadership not grasping the importance of fundraising, wearing too many hats, etc. This 60-minute webinar will explore how to overcome the biggest challenges facing fundraisers.
In this complimentary 1-hour webinar, Eddie Thompson will discuss the following:
8 of the biggest challenges facing fundraisers and how to overcome them

What defines a donor visit

What should be included in your organization's Fundraising Strategic Plan

The new 80/20 rule

How to use KPI to prove your fundraising staffs' value
Questions are encouraged! You can submit a question prior to the webinar via the form below or ask a question at the conclusion of the webinar.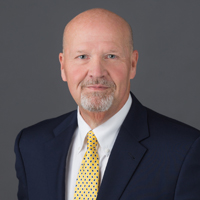 About the Presenter
Eddie Thompson
, Founder and CEO of Thompson & Associates and CEO of
Gift Clarity
, holds a Doctorate of Education in Higher Education Administration from Vanderbilt University. His doctoral dissertation was on successful fundraising methods. His academic achievements include two master degrees, a Bachelor of Arts, and an Associate of Fine Arts. He has raised over $3 Billion for charity during his 40 year career.
Watch the Webinar Recording
Welcome to our webinar on overcoming the biggest challenges facing fundraisers.  This webinar is part of our efforts here at Thompson & Associates to record and memorialize pieces of wisdom to help our nonprofit industry.  If you enjoy content like this, check out our other resources on our website, at ceplan.com, that includes a lot of other webinars, podcasts, and even Eddie's outstanding blog.
Eddie Thompson is the CEO and founder of Thompson & Associates, who's a team of professionals, who partner with nonprofits across the country to provide estate planning services to their supporters.  As Eddie says all the time fundraising at a nonprofit is a noble profession.  Fundraisers show people how they can help others and make a lasting impact on their community and the world.
The PowerPoint above is available to you to use.  Feel perfectly free to take it and take my name off of it and use it anyway you want to use it, if it's helpful to you.  That's our goal.  Our goal is to really help you.
You may have a list of the biggest challenges facing you, but we literally see hundreds of nonprofits every year and we hear their stories that are concerns and their anxieties.  We've jotted down what we see as the 8 biggest challenges facing fundraisers and we'll offer some suggestions with some takeaways as well.
So, let's talk about the biggest challenges and what are some approaches that might be helpful to you.  Why is this topic so important? As I mentioned, I travel the country and see a huge number of shops every single year and I find so many fundraisers are frustrated.  They love the mission, they love what they do, they love the idea of sitting down with donors and visiting with them.  But, I feel just enormous frustration coming from them.  My goal is to help today relieve some of that frustration by giving you some ways of achieving success in the face of obstacles.
That's why this topic is so important and I really hope it's practical and usable for you.  That's the goal in this.
The 8 biggest challenges facing fundraisers:
Yourself
Wearing too many hats
Not enough support staff
Not enough fundraisers
Leadership doesn't understand fundraising
The new 80/20 rule
Budget cuts
Lack of communication
1. Yourself
To be fair, we need to begin with a self-assessment.  This may be for you, as it was for me (and, still is for me), the biggest challenge – really taking time to evaluate yourself.
What should I be doing? 
How can I do something better? 
Are we using our time to the best advantage?
I find that time management is a huge key to success.  Do we know what to do?  Are we on time doing it?  Do we set done-by-dates?
I have found that I am much more efficient, and I feel better, if I set a done-by-date for every task assigned to me.  Then, I can add that on my calendar.
I remember one time coming home.  I came in the house kind of grumpy and not feeling real good about the day.  I yelled a little bit at the kids and probably wasn't as kind as I should have been to Sheryl.  Sheryl walked up to me, pecked me on the chest and said, "Why don't the bad Eddie Thompson get in the car and drive around and come back when the good Eddie Thompson's there?"  I told her, "You know, I didn't get anything done today."
The reality is I got a lot of things done.  But, not the important things.
So, I find that time management – staying focused on what's really important – the real tasks that make a difference so often gets pushed back.  Or, we postpone it.  Then, a lack of self-discipline with time management and lack of planning.
When you come in during the day, do you already have an agenda or task list of things to do?
Before we start looking at others as the problem, it's really good for all of us to pause and have a little quiet time to think are there ways I can improve as a professional.
Find a mentor or peer who can help you see your challenges and help you overcome your weaknesses and build your strengths.  Sometimes we need a person we can turn to who can help us analyze how we're doing things, what are our motives and what is our emotional status in our tasks.
So, let's begin by looking at ourselves before we start looking at others.
2. Wearing Too Many Hats
With that in mind, I think one of the biggest obstacles that we see with fundraisers is that they're wearing too many hats.  It is amazing how many small tasks consume a great deal of our time. Then there's too little time to get out and actually make visits with donors.  What we're seeing is that the average Major Gift Officer is only spending somewhere between 10 and 11 percent of their time seeing donors.
So, what are they doing?  They're often licking stamps for envelopes or doing things that a support person should be doing.  They just don't have enough time to do what really brings in the greatest results.
It results in visiting the same donors each year who are at the highest giving level.  We're seeing the same very few donors over and over again, and we're not filling our pipeline.  There's no time to visit the next level of donors.
While it's challenging to address this, it's really important.
I think it's important to sit down with a supervisor and discuss with them where you're spending your time and how you're not spending as much time as you would like or feel needed to really steward donors and have conversations with donors.
There's not a single person who believes that raising more money does not require seeing more donors and having more conversations.  We know that, and yet we wear so many hats that were not able to do that.
So, sitting down with your boss and saying I have X number of tasks that are assigned to me.  Which of these are the most important?  Is it raising money?  Well, that requires seeing more donors.  It's really important that you be really honest and candid with your supervisor.
Now, what happens if your supervisor doesn't listen?  We've all been there.  We've all been frustrated by doing all the small things and not able to do any of the most important things.  There comes a time where if you see that you cannot make progress and you're getting frustrated, there's nothing wrong with moving on to the next shop.  However, it is better to address the issue and fix the problem because it's going to be the same problem for the person who follows you. So, it's really wise to sit down with your supervisor because they may not know.  They may just be assigning your tasks and aren't aware of your other responsibilities.  I'll tell you as someone who's been a supervisor, who's been the CDO or executive director, or whatever it may be, I always appreciated someone who came in and said I have all these things to do, how do you want me to prioritize my time and what percent of my time do you want me to spend on each of these tasks?  That's a really important question!  What percent of my time do you want me to spend on each of these tasks?  Let them prioritize you.  Then, when it comes time for review, you can pull that out and show them how you spent your time.
3. Not Enough Support Staff
This really relates to point number two of wearing too many hats. So often we see really skilled, knowledgeable fundraisers doing tasks that should be done by support staff.  Our analysis would suggest that for every officer you have who is out seeing donors they need to have a .33 FTE of support staff.
Now, the other thing I would add about support staff is not only do we find organizations that don't have enough support staff, very often we find people who are not overly competent in these roles. This is a really important position.  This support staff person should be able to handle phone calls coming in from major donors.  This is not just anybody.  This takes a very skilled, knowledgeable, polished person who can also see their role, understand their role, and be satisfied with that role.
I would really encourage you to do some type of analysis.  Do you have enough support staff?  I'll tell you from what I've seen in 42 years, I bet at least 85% of shops do not have enough support staff.  And again, it's one of those situations where we're not being as thoughtful as we should about supporting our officers.
The answer is to engage a third-party company to prepare an analysis of personnel usage to convince leadership for the need and benefit of that change.  You probably need someone to come in and say you do not have enough support staff because they may not listen to you.  They may think that you're just trying to get out of your tasks.
4. Not Enough Fundraisers
Something we've seen in recent years that really causes me concern is that we're doing a really good job with the top 5% of our donors but that other 95% we don't really build relationships with them. We send them letters.  We send them information.  We do mailings, maybe contact them by phone; but we all know that great relationships are built in conversations.
There are not enough fundraisers in most organizations to build relationships with donors for those long-term deep abiding relationships.
Here's how you do this.  Take a hard look at the number of donors from a certain level up, let's say from $100 and up.  What percent of those donors are you actually visiting each year?  Not making a telephone call, not sending letters, but sitting down and actually having a conversation with them?  When you look at that, think about how much money you're leaving on the table because you don't have enough fundraisers to get out and see these tremendous people who would have an interest in your mission if they had more conversations, if they knew more about you, if they felt a part of your organization, like they belong within your organization.
A huge challenge is we don't have enough fundraisers.  One answer to that is to conduct a review of number of donors who give to your organization each year and think about who will never get a visit.  Think of individuals who have given gifts year after year, maybe at a small level, and let's say you select, as I mentioned earlier, a baseline of $100 (select an appropriate level for your organization).  Think about how many donors you have at that level and above that will never get a visit.
Here's the challenge.  If you don't have enough fundraisers and you only see a small percent of your donors, typically most organizations we see is about 5.7% of their donors above a certain level ever get a visit.  What happens when that 5.7% either pass away or have some form of health issue? Who do you have in the pipeline to move them up the ladder to replace that 5.7%?  It's really important that we have enough people to get out and see the donors who are going to fill our pipeline for years to come.
So again, not enough fundraisers?  Conduct a review to look at the number of donors who give to your organization who will never get a visit.  I think you'll be shocked.
5. Leadership Doesn't Understand Fundraising
I am amazed at how many organizations who are managed by CEOs, presidents, CFOs, COOs, who've never understood the value of fundraising.  In fact, some of them even see it as a cost center!  Think about that.  They see it as a cost center.  We are the people that fuel the machine.  We are the individuals out raising dollars that make our missions attainable.  And, what we need to do is to inform them.  Not just board members, but real leadership, especially CEOs and CFOs.  They don't understand what we do.  In fact, so often when we interview them, they say we drive around, drink coffee and eat lunch with people.  They really don't understand the value, the noble task of raising money.  I believe that to my core.  I believe what we do changes lives.  We are the fuel that moves the machine and if we don't have enough fuel, we fail.  It's raising dollars by building relationships.
So, how do you address that?  First, explain the techniques and methods that really make a successful fundraising organization. Every single nonprofit needs a fundraising strategic plan, not an institutional strategic plan, a fundraising strategic plan. We see bits and pieces of that sometimes in capital campaigns where we have a mission, a strategy and objectives.
We even build in some tactics in case something goes wrong, but what we need is overriding mission and strategic plan to achieve results.  Planning is so incredibly important. It needs to be thoughtfully done, professionally done.
Does your organization have a fundraising strategic plan? What all is included in a plan?
How many people do you need and what are their roles?
Do you need more fundraisers?
Do you need more support staff?
What are their goals and objectives?
We hear a lot about metrics, and most of us don't like metrics, but we have to have attainable goals and break them down. The smaller the goals, the better.
It's kind of like putting together a mosaic.  You take these little pieces and you put them together – not where they overlap but where they touch – where they fit firmly together.  The fundraising strategic plan gives us guidance about where we're going to go every single day.  Here's the way to analyze that: when your fundraisers come in on Monday morning, do they already have tasks and responsibilities for that day?  Are they driven towards the fundraising process?  More conversations, more money raised.  It is really that simple.  You need a fundraising strategic plan.
I did my dissertation on the 13 most successful universities in the country in fundraising and I contrasted them to average universities. The average universities were good, but they were not the exceptional – they were not the very best.  I found without a single exception, the greatest shops had a strategic plan where there was an approach to every single area of fundraising.  They had a systematic approach and there was high accountability.
You walked into their offices, you went into their meetings, and you felt it.  They were different.  They were focused.  Everybody knew their responsibilities and they did it.  Nothing in this world will ever replace a great fundraising strategic plan.  It is so crucial, I hope you have one.  If not, you need to develop one.
What is a fundraising strategic plan?
First of all, what is the story? What is the mission of the organization?
What actions are needed?
Who are the right people in each position? Really think about that.  You may have some really good people but they're in the wrong seat of the bus, as you've heard before.
Get really focused. What does it take to be really successful at fundraising? We all know the answer.  It's more conversations with more donors.
What are the most important activities to be a successful fundraiser?
How do you define a visit? I'm amazed at what we sometimes qualify as a visit.
What qualifies as a visit?  Here is what our most successful clients require before an officer can record an encounter as a visit.
Conversation must be in person (not over the phone or Facetime, etc!) AND one of the following must take place:
Solicit a gift with a written proposal
Share follow-up printed information from a previous visit (for example: maybe they want information on how to make a gift out of appreciated asset, so you bring them back information)
Thank them for gift and give them a receipt
Attend a special event for the donor (such as a funeral for a donor's family, or something similar in their lives, not the organization's)
Initial visit
Request inclusion in estate plan or discuss an estate gift
An introduction of a Thompson associate and invite them to participate
6.  The New 80/20 Rule
We've all heard the 80/20 rule – that 80% of the money is given by 20% of the people.  Well folks, that's just not true anymore.  It used to be when I first got in the business, but it has really declined.  We have found that for many organizations 80% of funds are now given by 5.7% of donors.  Think about that for a second! That should frighten us.  80% of the money is given by 5.7%.  We did an analysis of an organization last year where 80% of the money was given by 0.9%!  Less than one percent of the donors gave 80% of the money. Now, that's not a great picture for stability in the future.
What happens when you lose that 5.7%?  Because you're going. You have to fill that pipeline.  We know that 80/20 sounds better, and is better, than 85/0.7.  But, our movement today in most organizations is in the wrong direction.  We've got to fill that pipeline.  We've got to build relationships with the other 94.3% of donors.
We want to really help organizations think about how to broaden your relationships.  We hear so often from organizations that after a while they run out of knowing donors.  We need to change that. We need to increase the number of individuals we know and that know our organization thoroughly.
Here's what we recommend.  When we talk about spending time with donors, we don't take body count.  For example, we analyzed an organization about a year ago and they had five Major Gift Officers.  That was their body count:  five major gift officers.  Then we looked at the FTE (full time equivalent) with donors and conversations with donors.  Their total FTE was 0.7.  They had five bodies but less than one full-time person out in conversations with donors.
We've found the very best shops that are raising the most money have major gift officers spend somewhere between 75 and 90 percent of their time (FTE) in conversations with donors.  That's why they're successful.
It's really important for you to analyze your shop in what FTE your officers are spending with donors.  This won't be easy.  It may indicate that you need to right-size your organization, find the right person, or that your biggest challenge is enough support staff.
7. Budget Cuts
This blows my mind because if you look at hospitals, universities, smaller nonprofits, the best return on investment is in fundraising.  I asked an executive with a hospital system not too long ago if he gave me $5 and I gave him twenty dollars, how often would he do that?  He responded he'd it as often as you would. That's right!  We all would, but what if he gave $40 and I gave him $100? He'd do it as many times as I'd offer.  I asked which of those two he would prefer?  Most people would say giving you $40 to get $100 because the net is greater.
Return on investment is not the best way to analyze success.  I want to know what it takes to excel.  I want to know what I need to spend to get the greatest amount of money.  I am much more focused on the $40 for $100, than I am the $5 for the $20.  I would rather spend more to increase my net.  Too many organizations are too focused on the ROI.  You hear sometimes people say, but that's what donors ask. That is not true of sophisticated donors who give big gifts.  Big-time donors, what I refer to as change agents, they understand that is not an issue.  Their goal, as it was in their business, is to increase profits to the highest level attainable.  So, it makes no sense to cut fundraising budgets.
I was talking to a hospital administrator recently and I asked him what were the three most profitable areas in health care.  It was oncology, orthopedics and cardiology.  I asked, "what's your return on investment?"  He answered about 40%.  In fundraising, depending on your shop, for every dollar we invest is it $3, $4, $5?  There's no better area in healthcare, in higher education, or any other not-for-profit that has a better return on investment than philanthropy.  But, ROI should not be our goal.  We want excellence.  What do we need to spend to achieve the greatest success?  That's why you need a strategic plan.  That's why you need to analyze your staff.  That's why you need to focus on spending more time with donors with FTE.
All of this relates; therefore, since they don't understand this they cut our budgets or don't give us what we need to excel.  Hold your ground, make the case, show them that philanthropy is the best return on investment in their organization, but it can be better.  Our goal is not to maximize ROI, it is to maximize the greatest dollars possible to raise.
You can also prepare a proforma for staff staging.  Show them if you invest and really focus on bringing on the right people, you're going to raise more money.  Set goals, set expectations, prepare a proforma.  Accountants and CEOs understand proformas.
8. Lack of Communication
Sometimes we let small things build into big issues because we don't communicate.  It's true in any relationship.  It may be that we lack communications with our donors.  It may be we lacked communications within our office because sometimes they're difficult.  You've probably heard this old axiom that donors want to give advice before they give you dollars.  There's so much truth to that.
Communications is the key to this.  Are you seeing people?  Are you having conversations?  Whether it's internally within the organization, with your staff, with your CEO, with your CFO, are you keeping them informed, keeping them up to date?  It's true with donors.  Communication is so important in strengthening relationships.
How can you up your game in communication?
It's important to communicate with both donors and leadership. Don't be intimidated by either.
Donors and leadership understand numbers, so share dollars raised in different types of buckets.
Share the many types of activities that produce the right atmosphere. I told a university president one time his task is create an atmosphere where money can be raised.  We want the right atmosphere where donors feel good about what we're doing.
Give routine reports that donors and your leadership. Keep them informed.  Show them that you're making a difference, that they're making a difference.
Talk in their language. Use language they understand.
Don't avoid difficult questions. I find that over the years, and in our business we get to deal with difficult questions a lot, getting things out on the table and being kind at the same time as being firm is really important.  Don't avoid those difficult questions, especially with donors.  Listen to them and then deal with them honestly and understand where they're coming from.
Prove your worth with the production of a KPI (key performance indicators) each year and share it broadly within the organization. Now that's not a year in report.  This is an analysis of where you're spending the time and how its produced dollars.
Takeaways
A successful fundraising program requires a large and ever-increasing pipeline of donors. We've got to move beyond where we are with our donors.  We need more donors rather than just a certain number.
No matter how much time you spend in direct communications with donors is probably not enough. The more visits, the deeper the conversations, the more money you'll raise.  It's hard to raise money sitting behind a computer.  Get out and see those who are supporting you.
Qualifying visits are key because you seldom get make another first impression. They are vital in formulating a strategic plan for each donor.  Listen to them, look at them, observe their body language, not just what they're saying.  My dad used to say that God gave you two eyes, two ears, and one mouth – use them accordingly.  There's a lot of truth in that.  The great fundraisers are not the ones who talk the most, they're the ones who observe the most, who listen the most – who listen between the sentences.  Have a fundraising strategic plan for every single donor.
The donor cycle is not really all that linear and often not logical. Think about every donor is different, their approaches are different, their cycle and giving is different.  Observation in this area is so important.
You cannot overvalue being thoughtful and donor-focused (understanding donors' perspectives, interest and strategies). You have to be strategic and think about this.  It demands your time and attention.
We would do our donors, our organizations and ourselves a big favor by putting certain donors on the back burner. This takes some thought.  But, there are some times that people really don't have all that much interest in you.  A good example could be someone who makes a gift in memory of someone.  They did it not because they care about your organization, they gave because someone else who passed away cared about your organization or their family.  Or, there are times when donors have lost interest in us and continuing to go back to them becomes an irritant.  So, sometimes we need to put them on the back burner and stay focused.
Gift discussions should occur early and regularly with donors. Talk about how the money is being used.