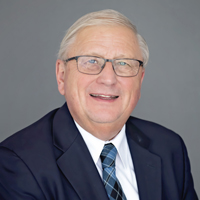 RICHARD RAUM
VICE PRESIDENT
Joined Thompson & Associates
2019
Located In
Fargo, North Dakota
Education
Princeton Theological Seminary, D.Min., 1985

Princeton Theological Seminary, M.Div., 1975

Wayne State University, M.A., 1972

University of Vermont, B.A., 1971
Memberships & Associations
Association of Fundraising Professionals
North Dakota Association of Non-Profit Organizations
Experience
University of Jamestown, Director of Planned Giving & Major Gifts, 2015-2019
RICHARD RAUM, D.Min.
VICE PRESIDENT
Richard (Rick) Raum joined Thompson & Associates after serving as Director of Planned Giving and Major Gifts at University of Jamestown in Jamestown, North Dakota, a Thompson client.
Rick spent many years as a Presbyterian Pastor where he led several major fundraising drives, including a $4.5 million capital campaign at First Presbyterian Church, Fargo, ND.  As he began to take growing interest in shifting his career toward philanthropy, he studied at the Lilly Family School of Philanthropy (Indiana) and St. Thomas University (Minnesota).  In addition to his development work at University of Jamestown, Rick also has served as a volunteer on the development team of an inner-city rescue mission, fundraiser for a Native American reservation church/community center, and stewardship consultant for several Presbyterian and Episcopalian congregations.
Rick was raised in Bergenfield, New Jersey.  He has served churches in New York, New Jersey, Michigan, Virginia and North Dakota.  Rick is married to Elizabeth (Betty) Raum, a writer of books for children and young adults.  They live in Fargo, and also enjoy a beach home in North Myrtle Beach, SC.  They have two children and two grandchildren.  Rick remains active in church work, preaching in local churches and serving on committees of the regional Presbytery.  His interests include reading, music and sports, and as best he can tell he drives the only car registered in North Dakota with a "New York Mets" bumper sticker.