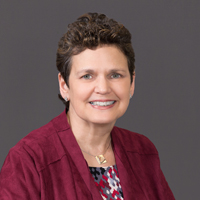 LYDIA LUZ, J.D.
VICE PRESIDENT
Joined Thompson & Associates
2019
Located In 
Houston, Texas
Education
Northeastern University School of Law, J.D., 1986

Wellesley College, B.A., cum laude, Women's Studies, History Minor, 1982
Memberships & Associations
National Association of Charitable Gift Planners
Charitable Gift Planners of Houston, Member since 2005; Past Member of Program Committee, Co-Presenter and Panelist
Association of Fundraising Professionals of Houston, Member and Past Presenter
Texas Association of Museums, Speaker, Annual Development Conference
First Unitarian Universalist Church of Houston, Various Positions, including Board of Trustees, Youth Mentor, Religious Education Teacher, 2006-Present
Past Memberships & Associations
Planned Giving Group of New England, 2002-2004
Experience
Baylor College of Medicine, Senior Director of Gift Planning, 2016-2018

Amigos de las Americas, Capital Campaign Director, 2014-2015

Rice University, Senior Director of Gift Planning, 2005-2014

Tufts University, Director of Estate and Gift Planning, 2000-2005
Tufts University, Associate Director of Estate and Gift Planning, 1998-2000
WGBH Educational Foundation, Major Gift Officer, 1996-1998
Wellesley College Fund, Associate Director, 1993-1996
Wellesley College Fund, Associate Director of Planned Giving Office, 1992-1993
LYDIA LUZ, J.D.
VICE PRESIDENT
For almost 30 years, Lydia has held leadership positions at prominent education, arts and health care institutions. Prior to her tenure in advancement, Lydia practiced law in Boston, Massachusetts. 
Lydia and her family had a unique introduction to their adopted city of Houston in September 2005, a week after Hurricane Katrina had decimated New Orleans. Arriving with 250,000 evacuees, Houstonians opened their homes, hearts and wallets to support those in need, taking in more evacuees than anywhere else in the country.  These strong traditions of philanthropy and civic engagement are among the reasons they have stayed, despite events such as Hurricanes Ike and Harvey.  
Lydia is active with the local planned giving council and has had leadership roles with her church. In her spare time, you may find her playing in one of several ukulele groups, taking a class at the YMCA or spending time with her husband of 24 years.  They have one son, who is attending college in North Texas.